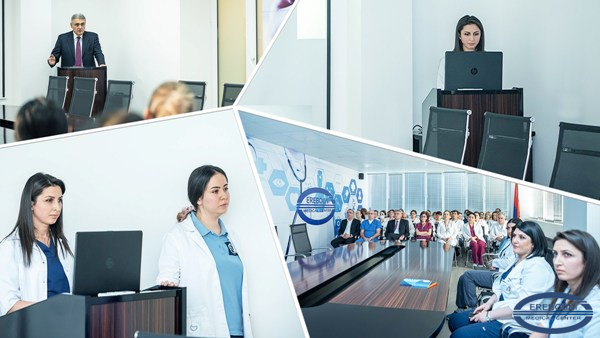 The features and possibilities of Cardiac MRI are again in the focus of specialists of MC Erebouni.Radiologist of MRI Department of MC Erebouni Mane Avetisyan presented topic "Main basis of MRI". Then Lilit Matevosyan, a radiologist who recently returned with her family from Germany, worked in Asklepios Clinic, presented to radiologists and cardiologists the latest innovations in Cardiac MRI, she also drew parallels between remarkable cases at a German clinic and MC Erebouni. In recent years, Heart MRI has been considered as a more informative, complementary to the classic methods in diagnosis of cardiovascular diseases.
Today, under the direct direction of The Chief Cardiologist of the Ministry of Health of RA, Head of Cardiology Department of MC Erebouni Professor Hamlet Hayrapetyan, the main research guides used in leading countries, are successfully implemented in MC Erebouni. Cardiac MRI in MC Erebouni is performed with advanced Siemens Magnetom Aera scanner. Cardiac MRT are carried out with special programs that are unique in the whole region.
And so, Cardiac MRI is performed in a number of pathologies:
· Myocardial infarction
· Cardiac tumors
· Specific diagnosis of myocarditis and pericarditis
· Valve disease
· Ischemic and non-ischemic cardiomyopathy
· Myocardial perfusion
Cardiac MRT plays an important role in other diseases as well.