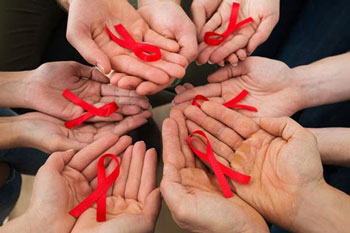 World AIDS Day takes place on the 1st December. This day was first proclaimed by World Health Organization in 1988. The quintessence of the day is an appeal to the world community to unite in the fight against HIV and AIDS, which has become a serious challenge not only for one country or region, but for the whole planet.
The red ribbon is internationally recognized as a symbol of the struggle against AIDS. On this day people worldwide wear it as a call to struggle against the "20th Century Plague".
AIDS is a dangerous disease development of which provokes HIV (human immunodeficiency virus). Now it has become a real scourge of humanity as more and more people are infected with it. The main method of struggle against HIV is its effective prevention.
For several decades now, a consistent development program for nurses has been implemented in MC Erebouni to ensure quality medical care. A system of measures has been developed, among which is to improve a level of knowledge and qualification of lower and middle-level medical staff. For this, seminars are held regularly.
December 1, 2017 the seminar dedicated to World AIDS Day was held in MC Erebouni, organized by the Head of Nursing Service of MC Erebouni, doctor-epidemiologist Z.E. Ohanyan,MD.
Head nurse of the High-risk Pregnancy Department of MC Erebouni Susanna Melkonyan presented to the audience the materials dedicated to the history of discovery of that terrible disease, with its signs and symptoms, told about the ways of transmission, as well as about the treatment and prevention of AIDS.
The reporter noted, that, on average, survival rate after HIV infection is from 9 to 11 years. The mortality from HIV infection and AIDS decreases depending on how timely the disease is diagnosed and treatment is started, and the life expectancy after initial diagnostics of HIV infection is up to 20 years. Most patients die from opportunistic infections or tumors associated with a disorder of the immune system. Clinical symptoms are significantly differ between patients and depend on many factors, including: susceptibility to infection, the patient's immune status, the quality of care provided, concomitant infections, and the strain of the virus that the patient is infected with.
You can detect the presence of HIV by passing a blood test.