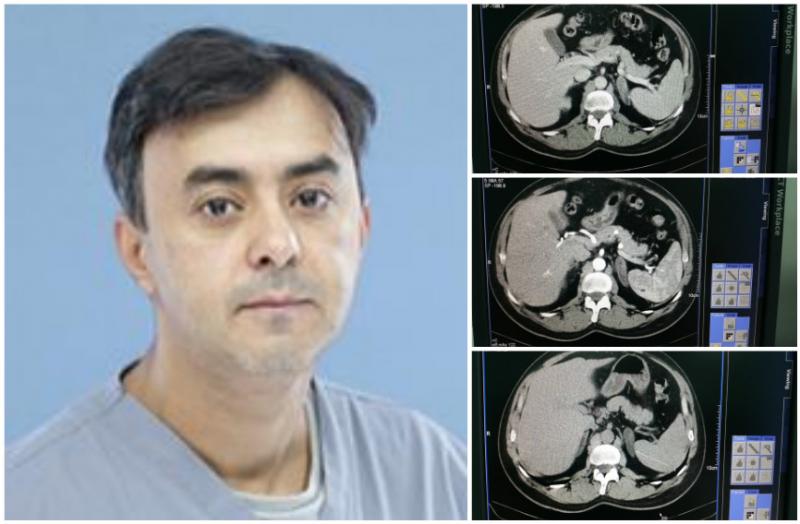 A 47-yr-old patient M.M. with complaints of pains in lumbar region and high blood pressure was admitted to Department of Cardiopulmonary Pathology of MC "Erebouni" in 15.04.2016. As a result of US, CT and MRI examinations it was revealed adrenal gland tumor, high level of catecholamine in serum and metanephrines in urine and also was identified retroperitoneal fibrosis ( Ormond`s disease).
After preliminary routine preparations of the patient by endocrinologists and therapists in 29.04.2016, he was transferred to Department of Minimally Invasive Surgery, where underwent planned laparoscopic left adrenalectomy performed by the Head of the Department Dr. Mesropyan T.A. The concomitant Ormond`s disease complicated identification of important elements of the anatomical structures during surgical intervention. However, it didn`t disrupted the surgical interventional procedure, that lasts for 2 hours and had favorable outcome (blood loss during the intervention was calculated about 100 ml).
The patient was discharged on the 5th day after surgery to stay under outpatient observation of therapist and endocrinologist.
Laparoscopic adrenalectomy is a kind of surgical intervention that often used in prominent clinics in all over the world and today also in MC "Erebouni".
Above described minimal invasive surgical intervention had favorable outcome due to teamwork of multidisciplinary team of the surgeons, anesthesiologists and resuscitation specialists as during procedure as in postoperative period, thus avoiding hypodynamic shock and discharging the patient from hospital within a short period.