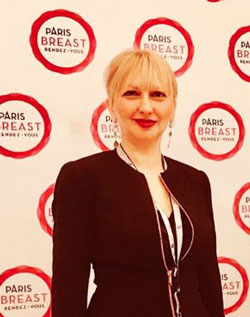 In May 24-26, 2018, in Gustave Roussy Cancer Campus Grand Paris an International Seminar with participation of European luminaries in the field of surgical treatment of breast cancer was held, to which the Armenian delegation headed by the Head of Department of Chemotherapy of MC Erebouni , Chief Oncologist of Yerevan Dr. Haykuhi Geokchyan, MD was also invited.
In the 3D format, mammoplasty surgeries performed by a well-known European surgeons were presented, master classes were held, where all the pros and cons were discussed, and who and when it was possible to carry out reconstructive surgeries.
Armenian surgeons with great attention and interest familiarized with works and basic modern approaches of the leading European specialists in the field of surgical treatment of breast cancer, presented their approaches and achievements in this area.
Within the framework of a recent International Seminar, agreements were acquired by the Armenian side for further joint cooperation.