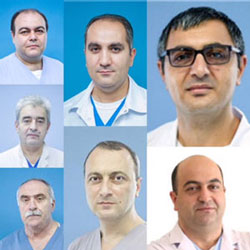 In 18.10.2017 a patient A.A., 1983 y/b., with road traffic injuries in severe condition has admitted to ICU (Intensive Care Unit) of MC Erebouni with the diagnosis:
Poly trauma injuries, Blunt chest trauma. Broken ribs on the right . Bruised lung. Closed multifragmentary fracture of the left femur , displaced fracture of the left neck of femur, closed multifragmentary displaced fracture of the right femur , closed fractures of ankle joints, fracture of the right foot. Hemorrhagic shock.
After carrying out laboratory and instrumental investigations (multi-organ CT, abdominal ultrasound, X-ray examination etc.) the patient was intubated, shock and intensive therapy have been carried out. In the area of the ankle joint plaster cast and skeletal traction has been applied through tibial tuberosity .
In ICU the patient was under dynamic supervision of the Head of Intensive Care Unit A. R. Muradyan (MD); Head of Department of Traumatology and Orthopedics V.A. Margaryan (MD, PhD); traumatologists R. Kh. Ayvazyan and G.A. Bdoyan, thoracic surgeon G.S. Soghomonyan; the Head of Vascular and Laser Surgery Department A.S. Badalyan, (MD, Ph.D); the Head of Anesthesiology Department L. M. Gabrielyan ( MD).
In connection with the growing hydrothorax, the left pleural cavity was drained.In two stages - in 30.10.17. and then in 02.11.17 doctor- traumatologists of the Department of Orthopedics and Traumatology Dr. R.Kh. Ayvazyan and Dr. G.A. Bdoyan carried out the surgical interventions: osteosynthesis of the femur with intramedullary nails.
Due to all the measures taken, a significant positive dynamics was noted in the patient`s condition, after which in 03.11.17 the patient was transferred to the Department of Orthopedics and Traumatology, continued his treatment and underwent a course of rehabilitation. Gypsum immobilizations of ankle joints continue.
In 13.11.2017 the patient was discharged in a satisfactory condition under the supervision of traumatologist. It has been recommended walking with crutches after the removal of plaster casts and control R- images .
It should be noted that such traumas often lead to severe consequences up to a lethal outcome . However , the provision of timely first aid , intensive therapy as well as high professionalism and multidisciplinary teamwork of the doctors of MC Erebouni allowed to save one more human life.
P.S. At the end of December this year, the patient underwent another X-ray control.
The patient moves with a walker. Life goes on!