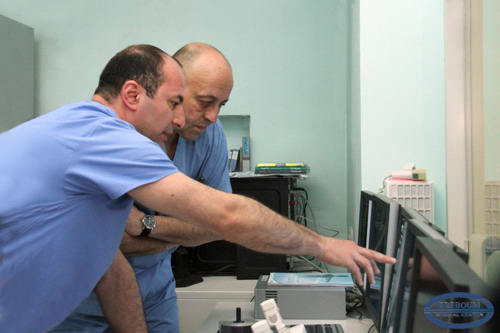 On February 14, 2014, the Erebouni medical center has visited the director of the American medical organization "ST. JUDE "Dirk Trusho. On the purpose of his visit, we had discuss with Dr. Trusho.
– Mr. Trusho, what the purpose of your visit to Armenia, and what you will provide to Armenian specialists?
– The main purpose of my visit is to introduce new technology for cardiovascular system study, which is called the FFR (fractional flow reserve). In the past, when we looked at the image of the arteries, made by angiography and noticed the narrowing of the vessels, we had tried to expand it by stenting. However, as a result of extensive studies, it became clear that stenting of the arteries should be performed only in case of narrowing of blood vessels that cause ischemia. As a result, stenting only significant stenotic lesions is made possible to reduce by 34% the possible complications.
– Are there any preconditions for implementation of this method also in Armenia?
– This method has not yet been used by specialists in the medical centers of Armenia, and our goal is to teach them to this method and show its advantages.
– What conditions are necessary for the implementation of this method of study in Armenia?
– Naturally, the introduction of this method will lead to a rise in price of the study. However, this will still economically beneficial enough, since it will be possible to avoid unnecessary stenting. But for the implementation of this method the appropriate knowledge and experience are required. That what we are sharing with our Armenian colleagues.
Our interlocutor - head of the department of angiography of MC Erebouni, Meruzhan Saghatelian.
– Mr. Saghatelyan, please provide the history and current technical equipping details regarding the department.
– The Department of Angiography and Intervention Cardiology operates since 2003 and is named after living in Russia our compatriot - academician Bagrat G. Alekyan. In recent years, in parallel with the equipping of our department with the latest technology, tools and equipment, the amount of work also had increased. Department is equipped with the unique in Armenia angiography system Siemens Artis Biplane. The technical capabilities of this equipment make possible to perform endovascular interventions such as angiography and stenting. The scope of activities of our department is gradually expanding.
– What kind of services has angiography department?
– The department performed intravascular diagnostic and therapeutic interventions. Simply saying, this process involves diagnostic and therapeutic catheterization and interventions on artery of any specific organ.
– What are the advantages of Erebouni MC compared with others?
– Erebouni Medical Centre is very competitive, especially if take in consideration its technical equipping. Of course, our goal is to provide high quality of specialized medical care to the population of Armenia but not the competition with other MC. That is why the patients flow enlargement to our department is continuously registered.
– What is the purpose of Dr. Trusho visit to Armenia?
– The purpose of his visit is to demonstrate to our specialists what is the FFR and how it show correlation between the artery stenosis and blood supply to the myocard, when it is necessary to perform revascularization procedure. This method can help to avoid unnecessary stenting. This method is not in use yet in Armenia and decision for stenting always carries life saving character.
– What could intervene the implementation of this method in Armenia? If today's event has only informative character or it will beginning for introduction of this application to the practice?
– The acquisition of any new equipment requires large financial implementations. Today we take a look at a new method of study and technical capabilities of equipment, in order to get it for use in the near future.