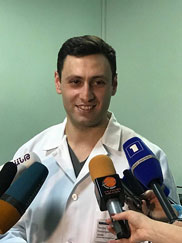 On January 24 ,2018 in MC Erebouni the press-conference of the head of Cerebrovascular Neurosurgery Service Dr. Davit Sahakyan was held, in which the hot topic of stroke has been touched. Responding to the questions of the audience Dr. Sahakyan noted that stroke has the second highest mortality and disability rate throughout the world as well as in Armenia. Whereas previously the stroke treatment was focused on the consequences of stroke and mostly conservative methods of treatment were used, to date, with the development of new technologies, the doctors have the opportunity to treat the cause of disease.
"Now the stroke has become a disease that requires immediate surgical intervention. It means, that it is necessary to go to hospital when first stroke symptoms appear: sudden weakness and numbness of the arm or leg, drooping of the mouth, speech disturbance, sudden severe headache etc.. The problem is that patients often delay visits to the clinic, which fails to achieve more effective treatment, and often leads to disability, a lower quality of life" - said Dr. Sahakyan .
Endovascular neurosurgery as a treatment for stroke is playing an important role in today`s world ,which is a minimally invasive and effective intervention. Endovascular surgeon can reach the vessels feeding the brain and carry out necessary intervention through the lumen of femoral artery without significant damages and open wounds. For example, in case of weakened blood vessel wall (aneurysm) and its rupture, the damaged place can be strengthened intravascularly to prevent bleeding. Intravascular stenting in these arteries can be performed in case of narrowing of vessels feeding the brain, atherosclerotic lesions in carotid arteries. And the most important is that in case of clotting it is possible to remove the clot urgently and restore cerebral blood flow.
MC Erebouni is one of the leading clinics, that has been successfully implementing various kinds of endovascular neurosurgical interventions for several years, which have become routine in the leading clinics of the world and led to a significant decreases in mortality and disability caused by the stroke. Modern equipment and medicines (Alteplase) of MC Erebouni, highly professional doctors, as well as cooperation with leading specialists of the best clinics of the USA and Canada help to provide high- quality medical care in case of strokes. In MC Erebouni a great attention is paid to an urgent treatment of the disease as well as to preventive and therapeutic measures.
https://erebunimed.com/eng/news.more/63
https://erebunimed.com/eng/news.more/131