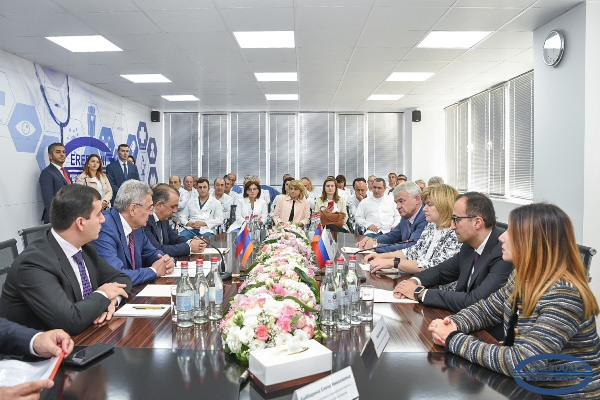 The delegation headed by the Deputy Minister of Health of the Russian Federation Tatyana Semenova also visited Erebouni MC.Accompanied by the founder and General Director of MC Erebouni Harutyun Kushkyan, RA Minister of Health Arsen Torosyan and Deputy Health Minister of the Russian Federation Tatyana Semenova toured the newly opened departments of the medical center and got acquainted with the possibilities of diagnostic services of MC.At the meeting with the medical staff, Professor Kushkyan welcomed the guests and stressed the importance of the Armenian-Russian cooperation and expressed his willingness to support further joint programs for the benefit of the development of Armenia's health care system.Harutyun Kushkyan, as a health care organizer, highly appreciated the recent reforms and programs implemented in the health care sector and expressed hope that they will be long-lasting and more effective.Dr. David Sahakyan, Head of the Cerebrovascular Neurosurgery Service in MC Erebouni, presented two major state programs implemented in the healthcare system of Armenia – programs of ischemic acute stroke and Sanitary Aviation, which are successfully implemented in MC Erebouni.
In particular, Dr. David Sahakyan presented the expediency and necessity of programs launched in 2019, noting that so far 249 patients have received necessary medical care at the expense of the State Stroke Program, and that this figure is 10 times higher than in 2018.Referring to the Sanitary Aviation Program, the cerebrovascular neurosurgeon emphasized that the program, launched in April, is a great support not only for ischemic stroke, but also for other urgent cases, which are also funded by the state.
The Deputy Minister of Health of the Russian Federation Tatyana Semenova expressed her satisfaction with the unprecedented results of these programs and congratulated the Armenian colleagues for recording such results in a short period of time.The Deputy Minister of Health of the Russian Federation assured that further cooperation with the Ministry of Health of Armenia and Erebouni MC will continue in the future to implement new programs in Armenia.RA Minister of Health Arsen Torosyan, once again getting acquainted with the results of the presented programs, emphasized the directions of the Ministry's policy and expressed satisfaction with the results.