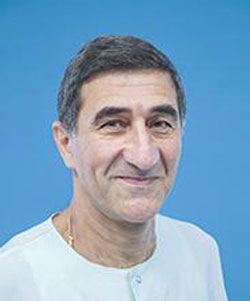 In medical practice there are anomalies and deformations of the vertebrae that leading to a scoliosis of spinal column at different levels. Deformed vertebrae can be both congenital and post- traumatic.
Congenital anomalies gradually lead to an increase of scoliosis as the child grows, sometimes also forming a compression of spinal cord or spinal roots. The same compression may occur after post traumatic spinal scoliosis, when the deformed vertebrae is displaced into the spinal canal, compressing spinal cord and forming neurological disorders below the level of compression.
Actually, the best method of the treatment is total removal of compressive element with release of spinal cord and roots. At the same time the correction of spinal deformity is carried out (kyphosis, scoliosis or combined deformities). The patient G.G., 41y/o, got injured 15 years ago (burst fracture of 6-7 thoracic vertebrae), regarding which laminectomy and correction by transpedicular fixation of fractures were carried out. In postoperative period – one month after the surgery, the patient had a late infection of wound. After the medicaments treatment the inflammatory process were managed. But the chronic infection of the wound develops. This was a reason for removal of the spine supporting constructions. The wound was healed, but there was a gradual resorption of the 6th thoracic vertebral body with formation of a wedge in the spinal canal. After that the patient hasn`t consulted doctors for more than 15 years.
| | | |
| --- | --- | --- |
| | | |
In 12.06.17. the patient applied to MC Erebouni for pains in the spine and muscle weakness of the lower limbs. Diagnosis: post traumatic kyphotic deformation in the thoracic spine with incipient myelopathy and vertebrogenic pain syndrome. The 6th thoracic vertebra was represented as a narrow wedge, which was a remnant of resorbed 6th vertebral body, wedged into the spinal canal, and coarsely squeezing the spinal cord.
In 15.06.17 by the Head of Department of Spine Pathology & Vertebral Surgery Dr. K.G. Momjyan, MD, the surgery was carried out: wedge resection from both sides of spine and posterior elements of the same vertebra. This allow to complete release the compressed spinal cord. Partial correction and fixation of kyphotic deformities were carried out by an installed transpedicular screws. The patient was back on his feet within 24 hours after the surgery, and in a week – was discharged from the hospital.
Such kind of surgery is carried out for the first time in Armenia in MC Erebouni and is considered to be one of the most complicated in spine surgery, because simultaneously both anterior and posterior spinal elements was removed from the posterior approach, allowing to correct deformity properly and release spinal cord.