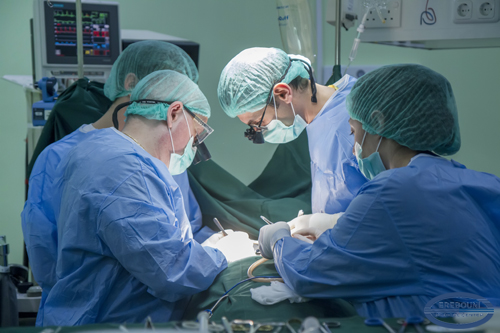 A 87- yr- old patient A. Zh with the feeling of numbness in left limbs, dizziness, uncoordinated movement and headaches was admitted in 15.05.2015 to the Neck and Heart Vascular Surgery Department (head of the service Dr. Shatakhyan M.P., MD, PhD).
The patient was diagnosed: 90% stenosis of the right internal carotid artery, left vertebral carotid artery stenosis 90% and left internal carotid artery stenosis 70% on the basis of duplex scanning and CT angiography of head and neck; condition of the patient after multiple strokes of hemispheric and vertebrobasilar pools; chronic kidney failure , chronic heart failure FC III and exertional angina FC II.
The decision was made for an immediate surgical intervention to prevent a stroke caused by critical right internal artery stenosis. The situation was complicated by the existence of chronic renal (creatinine 320mcm/l ) and heart failure (mitral insufficiency III , aortic valve insufficiency III, ejection fraction LV 40%, sinus bradycardia with a rate of 40-50 beats per minute). Taking into consideration all risk factors and preventive measures, in 16.05.2016 classic carotid endarterectomy of right internal carotid artery closed with ksenopericardial patch was carried out by the surgical team headed by Dr. Shatakhyan M.P and with participation of surgeon Dr. Hayrapetyan A.A. and anesthesiologist Dr. Muradyan A.R.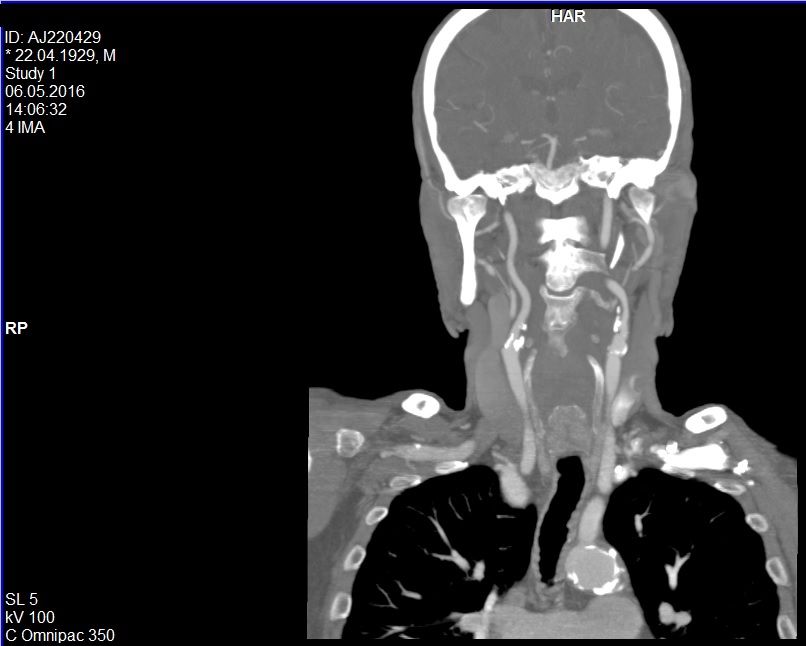 Post-operative period went smoothly, without complications, patient was discharged on the 2nd day. At present the patient is preparing for the second phase of intervention , where he will simultaneously be carried out carotid endarterectomy of left ICA and placed carotid-vertebrobasilar anastomoses.
One of the main achievements of the Neck and Heart Vascular Surgery Department is the possibility to carry out safe surgical interventions for stroke prevention particularly for elderly patients (within 2 years of work for 10 patients ≥ 80 yr were performed surgical interventions without any complications). This is the result of successful teamwork of doctors and medical staff and also high-tech as diagnostic as surgical facilities of Erebouni medical center.
Today neck vascular surgery in elderly patients for the prevention of stroke characterized by great results and helps to increase the percentage of life expectancy. This is the result of dedicated work of the Department and professional and humane approach to patients of mentioned age category.
It is necessary to state that in MC Erebouni the contingent of elderly patients, who previously may have been considered inoperable, now receive qualified operational service according to international standards.