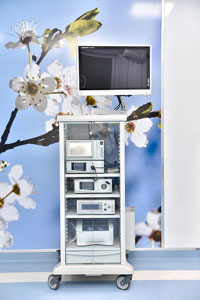 Recently, the Department of Gynecology, as well as Traumatology & Orthopaedic of Erebouni MC have been able to carry out laparoscopic and arthroscopic surgeries using new equipment from STRYKER company.
Erebouni MC, taking into account the undeniable advantages of laparoscopic method over open surgeries, as well as world practice of using laparoscopy in performing a wider range of surgical interventions, makes it possible to reduce the risks of both the surgeries and postoperative period with the help of the advanced equipment used in the world practice.
At present, in Erebouni MC laparoscopic method is used quite often, facilitated by purposeful work of the management to equip the clinic with new modern equipment, that makes it possible for carrying out the above mentioned surgeries.