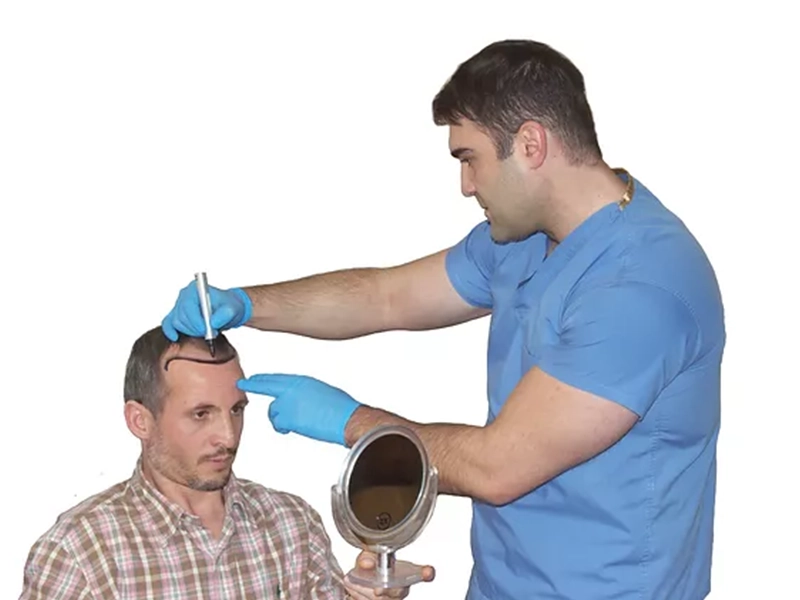 The Hair Transplant Service in MC Erebouni was founded in 2011. Here, hair transplantation is carried out using the latest technologies: the intervention is carried out by a NeoGraft device imported from the USA. It is unique in its kind, thanks to which the intervention is carried out without surgical incisions and sutures. The hair roots from the occipital part of the head are taken and placed in the area of the head where the hair has stopped growing. The advantage of this technology is that the process of taking, processing and placing the hair roots is carried out without touching, so 98% of the displaced hair retains its viability and continues to grow normally, and after healing there are no noticeable marks on the scalp.
All interventions in the Hair Transplant Service are carried out in an absolutely safe way.
"FUE" Follicular Unit Extraction Compared to the classical method, it is nonsurgical: a special instrument is used, to which a tubular needle is attached, which, rotating around each hair, crosses the skin according to the size of the needle and pulls out the hair along with the root.
"Graft" This is a small area of skin containing hair roots taken from the scalp.
When can I see hair growth? Usually placed hair grows rapidly within two to three weeks, after which these hairs necessarily fall out, they are replaced by the growth of new hair, which, in turn, becomes noticeable within 4-6 months.
How much of the graft can be transported at the first stage? At the first stage, 1200, 2000, 2500, 3000, 3500 grafts can be transported.
Hair transplantation is contraindicated for heart diseases, diabetes mellitus, skin and infectious diseases, as well as allergies to painkillers.
You can go to work 7 days after a hair transplant. With baldness on a large surface, two or three visits with three-week intervals are usually recommended.
Phone number of Hair Transplant Service: 094 040990
See more